Suddenly even more eager to finish up the goggles project, I stopped at Tandy Leather and picked up a package of 1/2″ saddle strap, which is a nice thick but flexible latigo leather in a nice dark red color. Adding a brass buckle and brass smash rivets brought the total to less than $10!
The Arist Wife came up with a great suggestion to replace the ugly ball chain nose piece with some brass compression fittings she had bought for jewelry, and I added the double 5x loupe set I bought to fit using a 90 degree grease zerk which worked perfect!
Then today we went to Wild West Mercantile, a Old (and Modern) West store thats got a great online presence (and good prices!) as well as a huge local storefront!
I found the perfect Top Hat with just the "John Bull" style I wanted for very reasonable ($35).
Without further ado, the completed project: goggles and top hat, for about $55 total! Vivat!
(Click any link for a larger view)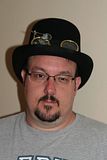 One

Two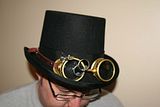 Three