I'm working on a new Steampunk outfit, but I'm not going to reveal the Steampunk elements yet!
The outfit is a Victorian Black Watch Officer's Uniform, the desert (Africa) version: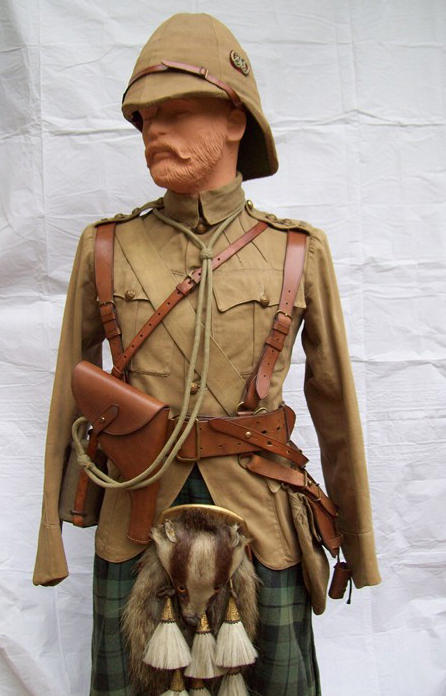 The image is a Argyll & Sutherland Regiment and I'm doing Black Watch, but it's mostly the same. There are a number of cool parts of this uniform: the khaki colors were originally issued white, that was either mud or tea dyed by the troops. Apparently the Boer guerrillas in Africa had a great time picking off the British Officer's in their nice white uniforms, so the troops used "field expedient" methods to make themselves less of a target.
My first step has been creating the pith helmet. I started with an "Imperial" style British Pith Helmet. These are the taller ones that were more common earlier in the 19th Century. Later on the flatter wider "Wolseley" Pith Helmets became more common. The Black Watch had a couple of special uniform elements that were unique (or semi-unique) to their uniforms: first was they wore a Black Watch tartan patch under the badge on the side of the helmet, and second they had the right to wear a red feather "hackle" on their helmets. This is a period example from the Canadian precursor to the Black Watch, of the later part of the 19th Century:
I later found a recreation of the exact helmet I wanted: the 42nd Black Watch Pith Helmet, with tartan patch, helmet badge, and red hackle:
I got the Pith Helmet from Gentleman's Emporium and the badge and hackle from ebay. A friend had some extra Black Watch fabric from when they were in the SCA, so that became the patch. So here is my version, ready to be attached!
An interesting note is that this is before the commonplace pin-and-clamp on the back of pins and badges now…they used a seperate cotter pin to hold the badge on, through holes in the puggaree (the wrapping around the helmet). I may use those if the Artist Wife helps with the cutting/pinning, or I may just glue the whole setup on.