In looking for Victorian/Steampunk clothes, I was really pleased to see the selection available on the Internet. As the Old West Era overlaps so closely with the Victorian, a lot of Old West places appear to have branched out to serve the Steampunk community as well.
When I asked various friends who do Old West recreation, they all recommended Wild West Mercantile as a great outfitter, and while they happen to have a great online presence, they are local here in Phoenix (well, Chandler) I decided to give them a shot. The Artistic Wife and I happened to be down in that neck of the woods, and a friend (and possibly future blogger on this site) gleefully tagged along on the expedition.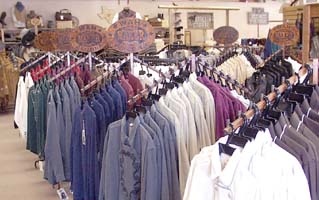 The shop is a couple of medium-sized clothing stores stuck together, with one half specializing in the Old West clothing (mostly mens, but a decent little women's section) and the other half handling the modern Western clothing. I never really bothered to step foot in the modern section, to be honest. I haven't owned cowboy boots since I was 4, and I don't plan to start (unless its for recreation, which is different to me.)
The Artistic Wife and friend bounded off to the women's section, and I headed for the hats. First I needed a top hat (you'll see that elsewhere on the site, in the goggles post).
The staff was very nice, and took the fact that we were interested in Steampunk/Victorian (as opposed to Old West) completely in stride. The first hat they showed me was exactly what a I wanted — the "John Bull" style, which is not as tall as a full top hat, and has a slightly upturned brim (which they said was more popular amongst the Steampunk crowd). The largest they had (an "XL") fit my freakishly large head (I wear a 7 3/4″ hat size) easily, and the hat was $35! Sold!
I tried on various vests and shirts, finding a vest the Artistic Wife and friend liked but no shirts in my size. I looked at frock coats, but not a lot, as our time was up. The Artistic Wife had found two entire outfits, including a blouse, a saddle skirt (pants that look like a skirt for horseback and later bicycle riding), and a beautiful coat. We culled that down to about $400 (the coat was $200, but it'll go with anything else she wants to do).
The entire time, the staff was great — helpful but not pushy, and stayed out of the way processing what looked like a mound of web orders.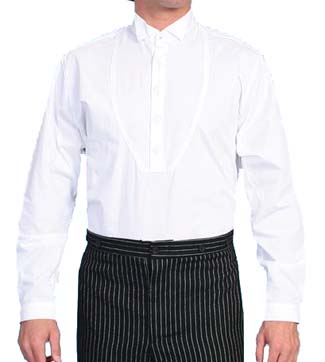 A few weeks later, I got an email from Wild West about a 20% everything sale, so I went back by myself to see if they had any shirts in stock and look at coats. This is where their Internet site was really useful — I found a frock coat that fit at a great price (really good with 20% off!) and called the Artistic Wife (strangely, the same friend was over) and had them look up the coat on the website. With the "looks good!" from the Wife I started a pile.
A very friendly salesperson answer my questions about wing tip shirts (they were still out of stock) with an explanation that the factory was having a few issues, and offered to order me one in the size I wanted. She found a similarly cut shirt to try on and she suggested that she also order a shirt the size up from what I wanted, just to cover the bases. She also explained that such orders required nothing down — they'd call me when they were in (about 6 weeks) and I could take the one I wanted or not, no special charges! Anything I didn't want, they'd just put on the shelf. On top of that, because I'd ordered when the sale was on, I'd still get 20% off the shirt *six weeks after the sale*! WOW!
I rounded out my trip with a pair of dress slacks (the "over the stomach" style means that they're *huge* and need to be tailored about 8 inches off the legs!) and dress suspenders.
Considering ordering from Wild West Mercantile online or in the store. Do so! I wish regularly clothing stores were this great!
I'll definitely be back!